Tips for writing a good Work Instruction
A small business doesn't have to be in pursuit of an ISO certification to take advantage of the proven format applied in ISO work instructions.
The ISO style hierarchy is based on business Processes, Procedures and Work Instructions. Procedures, as well as Policies, are used to describe a more general view of a workplace and the work performed by a company. These don't include specific information on how tasks are completed, and can often be applied across all departments.
Documents called Standard Operating Procedures, SOPs, Detailed Tasks, and Work Instructions can all be the same thing; a description of how employees perform the tasks required to complete a Process.
ISO uses the term Work Instruction.
Think of Work Instructions as the methods used to fulfill the requirements of Procedures and Policies.
A detailed Work Instruction will include the following elements:
The Purpose of the Work Instruction; the reason for writing the Instruction
The Scope of the Work Instruction; the defined area the Instruction applies to
Any Record Requirements to display, provide, maintain and/or store applicable Records, Permits, Test Results or other Documents; before, during or after performing the tasks in the Work Instruction
Definitions of terms, acronyms or phrases contained in the Work Instruction and thought to be potentially confusing or unclear.
Responsibilities assigned by the Work Instruction, including responsibility for maintaining the Instruction document
Any Tools and Equipment required to perform the Work Instruction tasks
All Hazard Warnings employees must be aware of to safely perform the Work Instruction tasks
All Safety Precautions employees must comply with to perform the Work Instruction tasks, such as mandatory PPE
A step-by-step explanation of the Task Details and Sequence of actions, which instruct the employees on exactly how to perform the Work Instruction tasks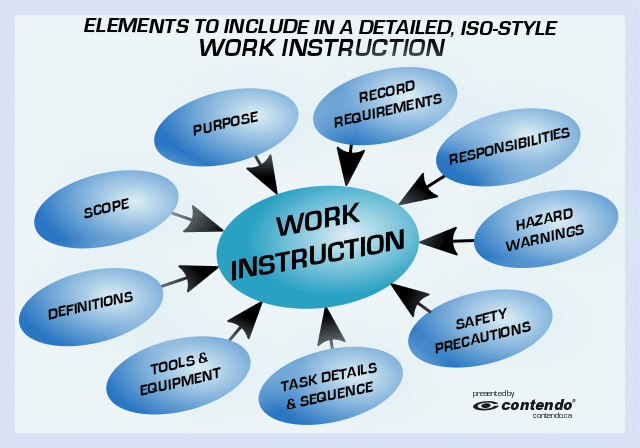 Graphics such as Flowcharts, Tables, Parts/Assembly Diagrams and Process Drawings can be added as required to identify, clarify or explain any part of the Work Instruction.
It is important to look at every Work Instruction from multiple points of view. Involving the people assigned to perform the job being described is a great way to get their insight on the Work Instruction and can increase overall employee support for the Work Instruction program.
Kevin Fox is a technical writer at Contendo. He is a power engineer with a background in process operations, steel fabrication and military.