For Bob Lennon the choice was an easy one.
When Brunswick Mine, just outside of Bathurst, NB, closed in 2013, the engineer and safety specialist was offered a job in Toronto. After spending more than three decades working in the mining industry, in his own backyard, it was a chance to bring his expertise to the big city.
"They wanted to keep me. They invested 33 years in me," he said. "I said 'thank you very much' (but) in the same breath said thank you and goodbye."
An opportunity
Lennon chose to stay home and put his talents to use on a project he started with his brother-in-law, Pierre Friolet, nearly a decade before.
"Pierre came to see me in 2005," explained Lennon, who is also an in-demand safety consultant who works with companies around the world. "He was a contractor…and was looking for something different to do."
Friolet saw a future in a process that added heat to lumber.
"He came home with an arm full of wood and dropped it on my kitchen table and said this is the future," laughed Lennon.
Originally, Friolet wanted help putting together a business plan. But knowing that Brunswick Mine was nearing the end of its life cycle, Lennon was already looking at options for his future.
"As I dug and did research and started to put the business plan together…I decided to become a partner rather than just be the guy who helped my brother in law put a business together. We started our operation in May 2008, but the mines didn't close until 2013, so I continued doing both jobs in the beginning."
Changing the game
Fast forward a little over a decade later and Thermalwood Canada, using the process that Friolet stumbled upon, is one of just three facilities in Canada (and roughly 10 in North American) that produce thermally modified wood.
"What we do, to try to make it as simple as can be, is that we add value to wood," explained Lennon. "At the same time, we open up other market opportunities for species of wood that weren't able to play in those markets before."
They do that using heat and steam to transform the wood.
"You take any product at all, it can be liquid or solid, and start adding heat to it and all of a sudden there are reactions that start happening," continued Lennon. "Heat is basically the catalyst to get things going. It is no different with this. So, what we end up doing is that the heat actually causes a reaction inside the wood and you end up with a number of things that happen."
The most notable change is to the colour of the wood, which becomes a rich brown colour.
"And it pulls out the grains of the wood even more than before," said Lennon. "It also changes the cell structure and densifies the wood, and by doing that what ends up happening is that it will not allow any moisture from the air to penetrate in the wood. So, it is very very stable.
"The other thing that it does is that we remove all of the organic properties and the sugars in the wood at those temperatures. We evaporate them off of the wood, and those are the things that bugs like, and they are also the things that fungus like, and they are also the things that make the wood rot."
"So, we've improved rot resistance, we've improved stability, and we've changed the colour."
Because of that woods, like maple and birch, that were traditionally only used for flooring and furniture, now can be used outdoors for things like siding.
"Ash is our biggest seller of decking," said Lennon. "They are all hardwoods that never played in an outdoor world. It allows them to play there."
A 'noteworthy' discovery
As Lennon proudly points out, being able to play outdoors isn't the only new market that adding heat and steam to wood opens up.
"In different markets you try to resolve different problems," he explained. "In the music industry it is tone and the stability. Imagine a guitar player. You practice in a very air-conditioned room that has got low humidity. You've just tuned up your guitar and you step outside on a humid day. All of a sudden it goes (out of tune).
"This (thermally modified wood) won't change whether you are inside or outside. It is stable so you don't have to retune a guitar.
"The other thing that it does is it changes the tone. Scientific tests have shown that our process replaces 35 years of natural air drying."
Lennon said that is great for people looking for the sound of a vintage guitar. That means Lennon has also found a market for Thermalwood with guitar manufacturers like Fender and Ernie Ball.
"They basically can replicate a 1958 or a 1937 or whatever just by the different cooking temperatures that they can reach. Ernie Ball coined it roasted. So roasted maple necks."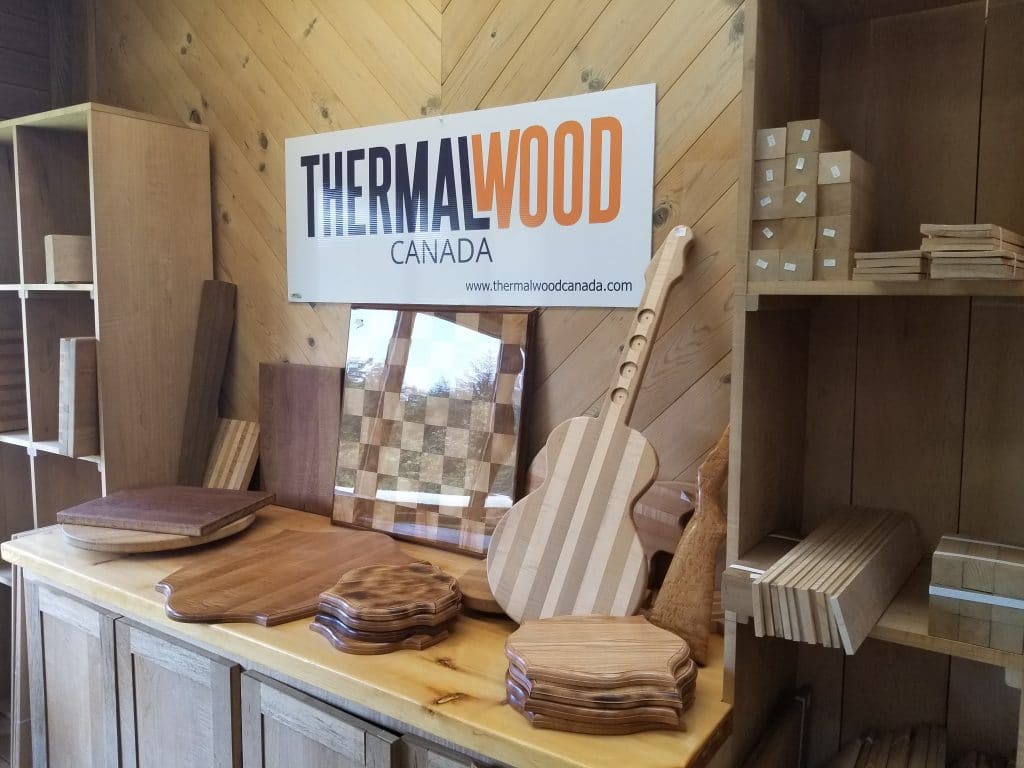 Hometown pride
As proud as Lennon is of the contacts he's made through Thermalwood, his pride really shows through when he talks of the company's ability to compete in a global market from their facilities in the Bathurst Industrial Park.
"It is one thing to tell people that I'm selling decking and siding," he said. "But I tell them I also sell to Fender and Ernie Ball, and they go 'really, from here?'
"Yeah from here. Bathurst! That resonates."
And that more than anything is what motivates Lennon.
"If we can demonstrate that we can do this…we can be a model for others to be able to do it.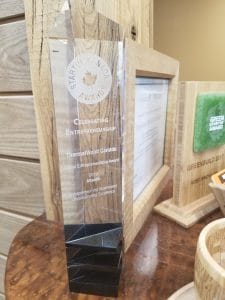 "One of the things that drives me most…has to do with creating the environment to demonstrate, outside of our region, that we have a culture of 'we can do it'…'we can do anything'. It is all about demonstrating to (the world) that we can do stuff, and that you as a potential client or customer want to deal with people that will serve you well, that will take care of you well, and that will be able to answer your needs. That comes from a positive culture."
"It is a showcase to show the world that we can play there (he points to a map of the world)."
Bringing the heat
And that brings him back to the Heat.
Bathurst sits at the heart of the Chaleur Region, roughly translated to region of warmth. Lennon has taken that translation up a notch and has created a series of interviews, found on the Thermalwood Facebook page, called Northern Heat where he talks to local business owners and highlights their success.
"There are other companies in this region that are doing research and stuff that people don't know about," he said. "There are all kinds of opportunities."
And leading that charge, and 'turning up the heat' is Thermalwood Canada.
Taking Care of Business with Contendo
A look at successful small and medium-sized businesses
and how they continue to find a way to 'make it work'
By Peter Assaff
Contendo is a leading software solutions company based in Belledune, NB. Originally focused on safety training solutions for some of the largest companies in Canada's Oil and Gas Industry, Contendo has taken the lessons they've learned and adapted their offerings to uniquely serve small and medium sized businesses on the East Coast. Contendo offers proprietary web-based software products, such as a Training Management System (TMS), online Safety Training courses, custom Client-Specific Online Training and company or site Employee Orientation Packages. Contendo has also developed an in demand, state of the art Labour, Equipment and Materials Summary tool (LEMS) to help businesses control invoicing, project tracking and payroll.
Peter Assaff is Contendo's Business Development Lead. Peter is also an award-winning journalist, with over 30 years of experience in radio, newspaper and television. Reach out to Peter at peter@contendo.ca if you have an idea for a story on a successful business, or for any information on the products and services Contendo has to offer.