No mulligans here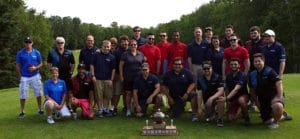 At Contendo we are blessed to have a talented hard-working video production team.
They spend most of their time filming site-specific videos at industrial locations throughout the province.  Those videos are then edited down to become part of the safety training, orientation and marketing packages that we offer to our valued clients.
Of course, as the old adage goes 'all work and no play make Homer something-something'.
Or was it 'no tv and no beer'?  It is the Simpsons after all.
Either way, you get the idea.
How to master the Contendo Hole At Gowan Brae Golf Club
With that thought in mind, we sent the Contendo video production team to Gowan Brae Golf and Country Club to have a little fun.
The idea was to take advantage of a beautiful summer day, show off the spectacular scenery that Gowan Brae is famous for, and see if Team Contendo learns a thing or two about improving our golf game.
What better way to do that, than to film Gowan Brae assistant pro Chad Townsend doing what he does best.
And, of course, we couldn't pass up a chance to take out the drones.
The 19th Hole
So, take 90 seconds, check out Chad's golf tip and let us know if it helped your game.
The Contendo production team learned a thing or two and got some great shots while they were at it.
We know you'll love the bird's eye view of the 15th green.
And next time, we might even let you join us for that beer!
Fore!
Give us a shout to find out how Contendo can help you!
Contendo's talented team of videographers give us the ability to cover your project from every angle.  Shot in 4K Resolution at 60 frames per second, guarantees video content that is clear and smooth.  With the added touch of Drone Footage, you can feel confident that your message will soar to the next level.