SAGD Oil Sands Online Training
Process Education
for Canadian Oil & Gas Workers
Anyone thinking of working in western Canada's Oil Sands regions should look at Contendo's SAGD Oil Sands Online Oil & Gas Process Education.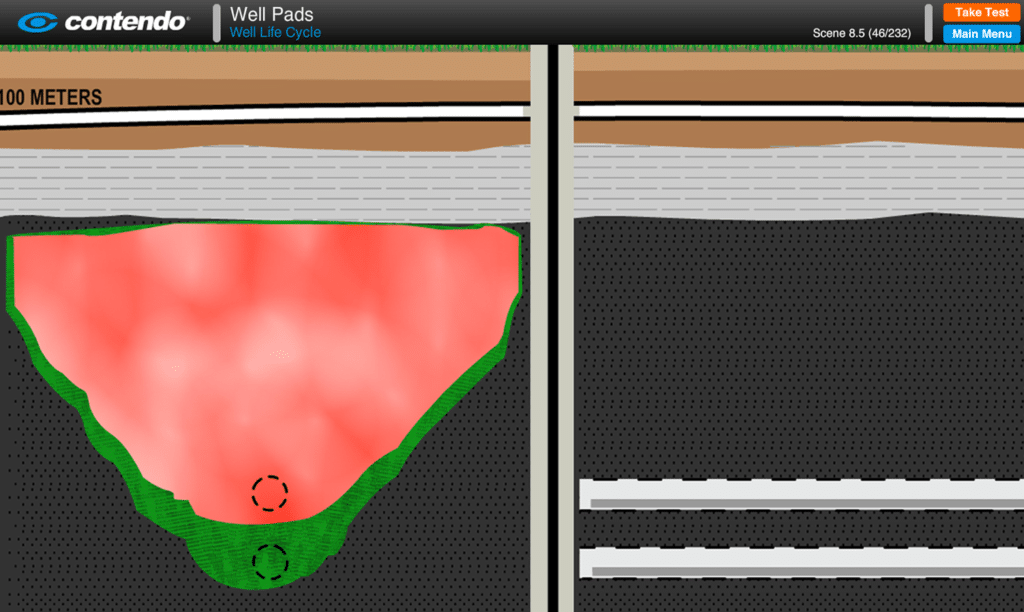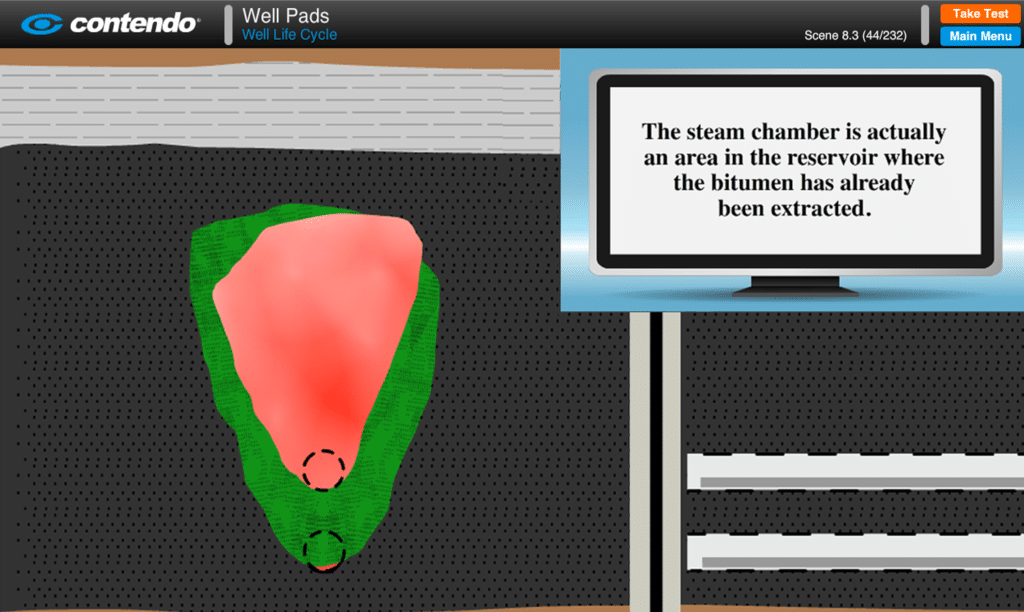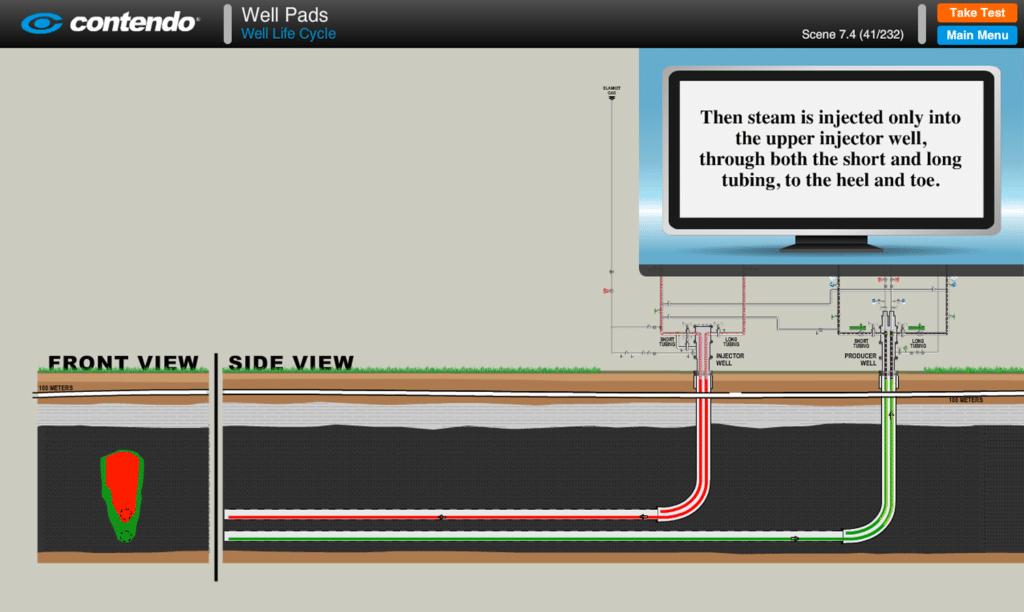 The purpose of the Well Life Cycle chapter is to describe the start-up, plateau and decline phases of a SAGD well, and examine the factors influencing steam chamber growth and evolution.
Describe what SAGD is and how it works, Define the SAGD start-up, operational and decline phases, Describe steam and produced fluid flows through the wells during the start-up and operational phases, Describe why the creation and control of the steam chamber is so critical to SAGD operations, Describe the role of the bitumen reservoir cap rock in SAGD operations, Identify why heel and toe steam injection is important, And, explain what saturated steam is and why it is used in the SAGD process.
Well Life Cycle: SAGD Oil Sands Online Training is part of the Well Pads chapter of the SAGD Oil Sands Online Training Course.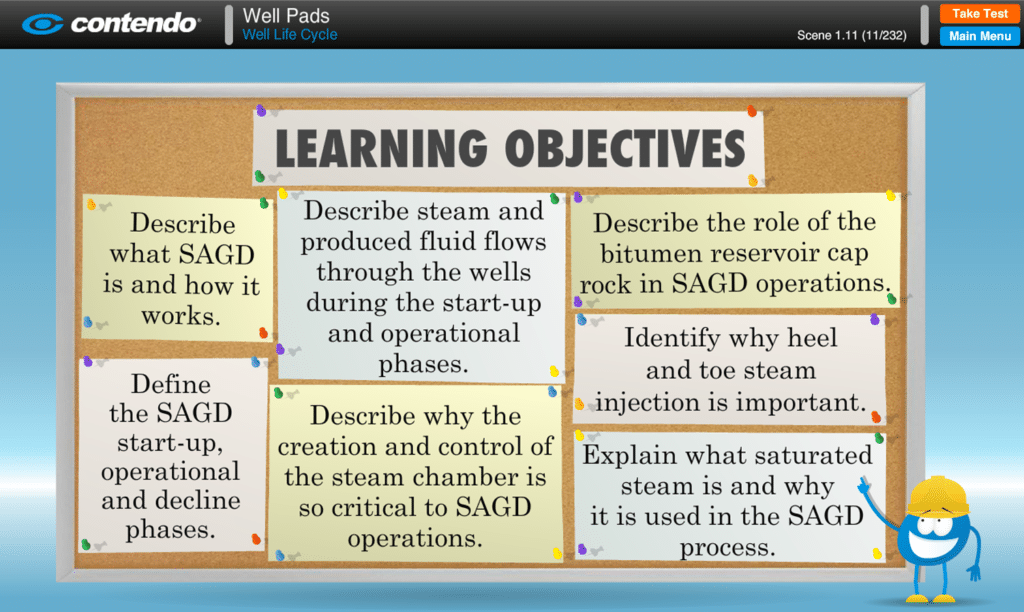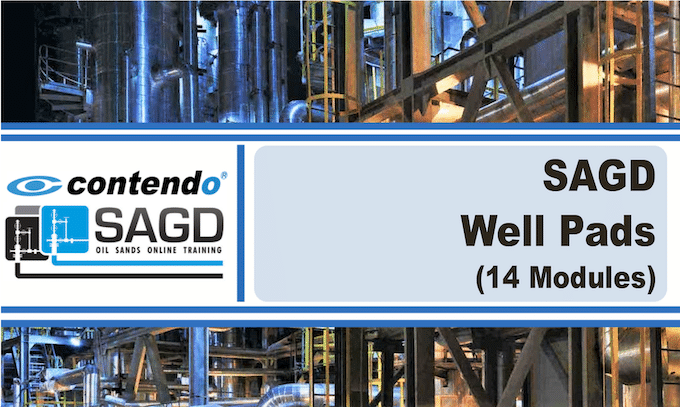 WELL PADS: SAGD OIL SANDS ONLINE TRAINING
In Contendo's SAGD Oil Sands Online Training: Well Pads Course, you will learn how high pressure steam is used to recover heavy bitumen to the surface, how lift gas enhances this recovery, and how the produced fluids are separated into liquid and gas components for transportation to the SAGD processing facility.
ABOUT THE SAGD OIL SANDS ONLINE TRAINING COURSE
The SAGD Oil Sands Online Training Course is a fully animated, universally accessible online training program that provides its students with an in depth understanding of one of the Oil Sands most popular and most nuanced method of bitumen recovery. With a curriculum written by experienced industry experts and accurate visualizations and animated chapters, you will be able to function in this challenging and growing method of Oil Sands Production.