Hot Lime Softener (HLS) Sludge Centrifuge
SAGD Oil Sands Online Training
Process Education
for Canadian Oil & Gas Workers
Anyone thinking of working in western Canada's Oil Sands regions should look at Contendo's SAGD Oil Sands Online Oil & Gas Process Education.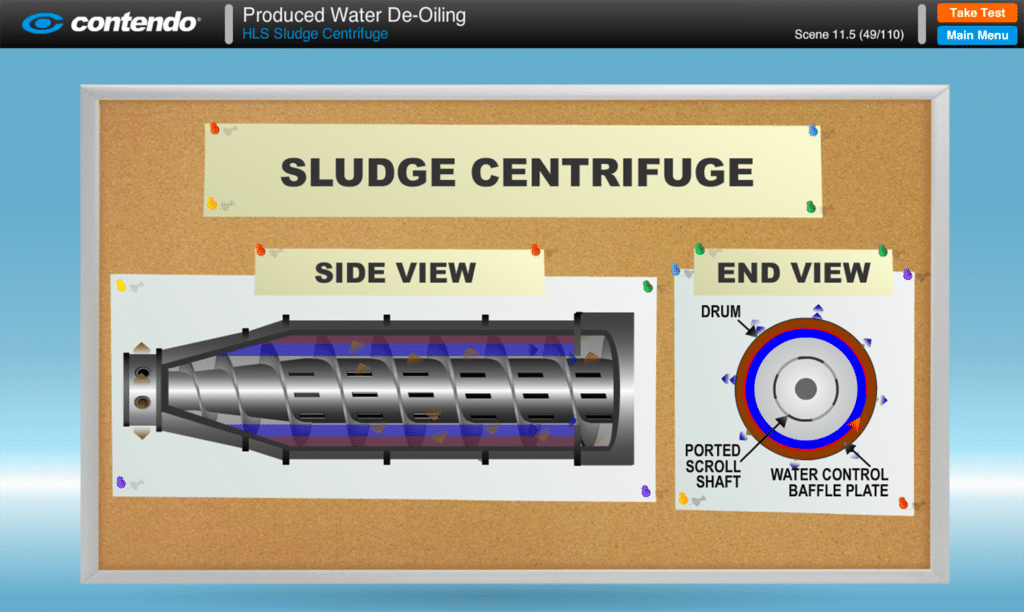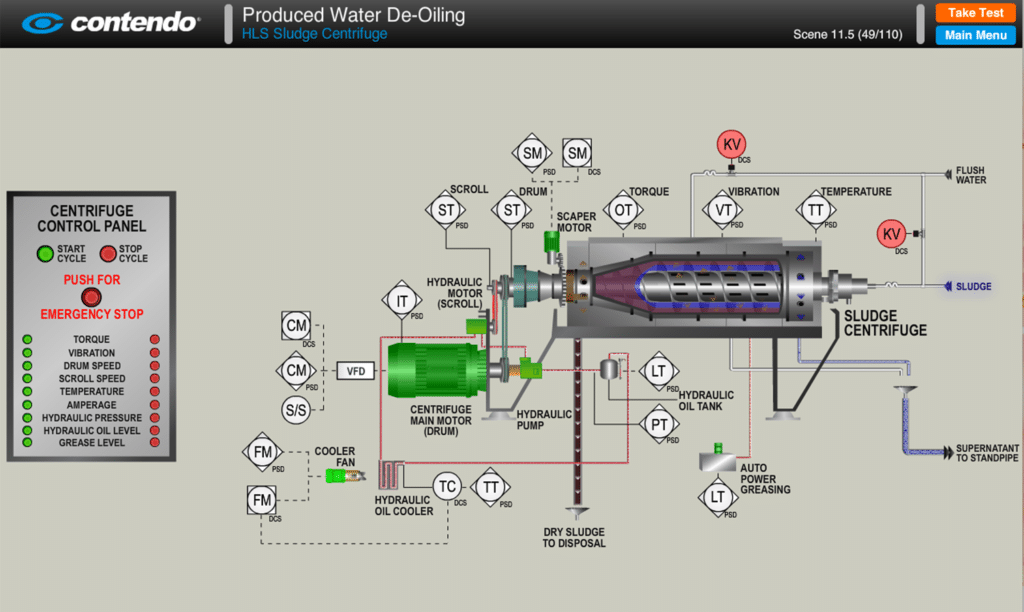 The purpose of the Sludge Centrifuge system is to separate the sludge generated in the Lime Softening process into disposable dewatered sludge and reusable supernatant water.
State the purpose of the Hot Lime Softener Sludge Centrifuge system, Explain why flushing capability is built into the design of Sludge Handling equipment, Explain how a centrifuge speeds up gravity separation, Name the two main moving components of the Sludge Centrifuge, and describe the centrifuge operating principle, And, Describe the Centrifuge operation. 
Hot Lime Softener (HLS) Sludge Centrifuge: SAGD Oil Sands Online Training is part of the Produced Water De-Oiling chapter of the SAGD Oil Sands Online Training Course.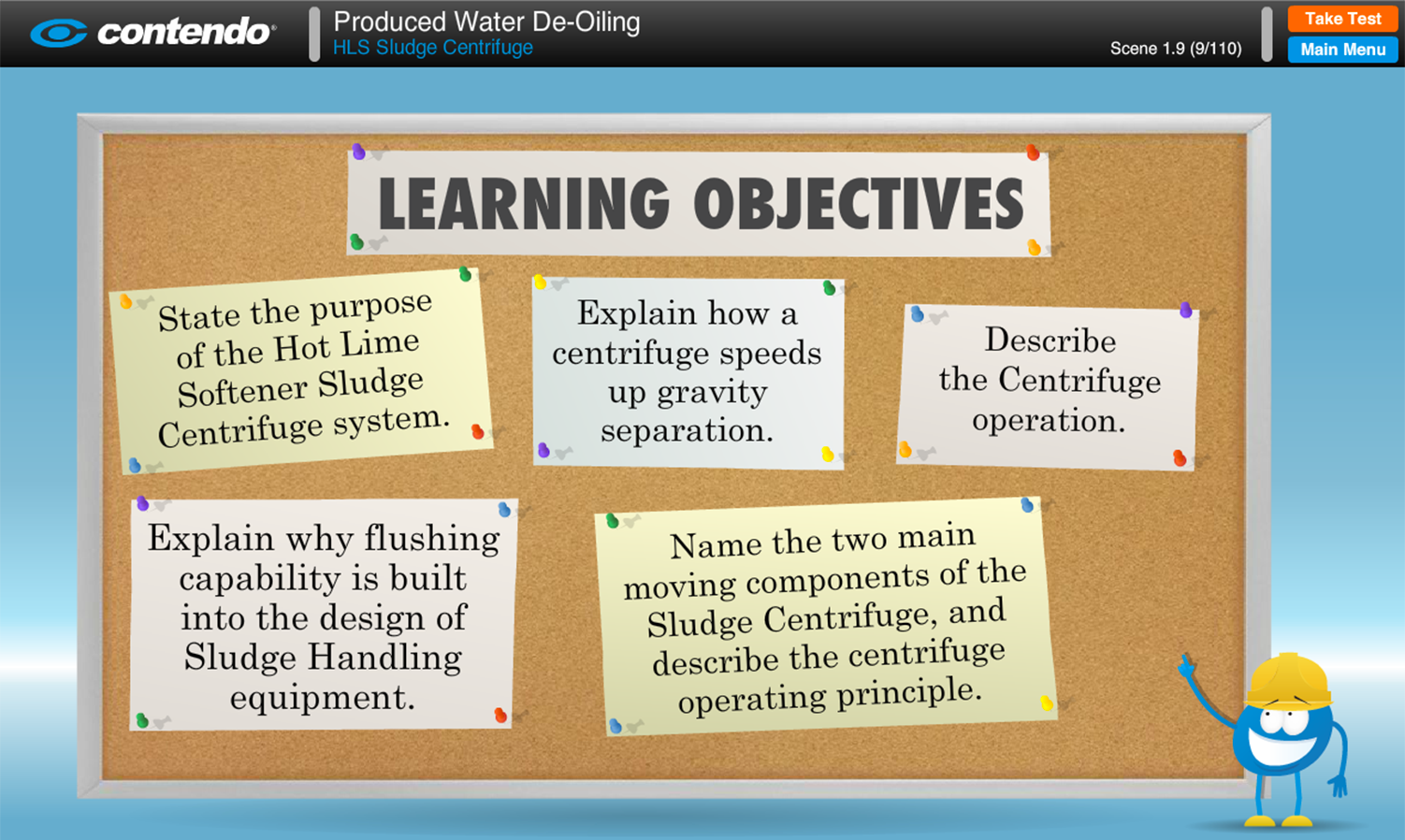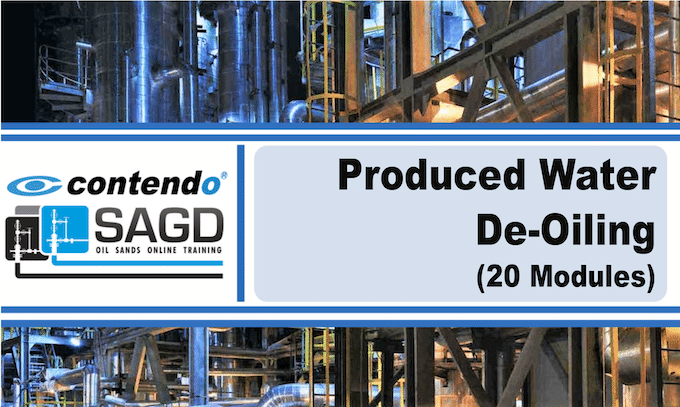 PRODUCED WATER DE-OILING: SAGD OIL SANDS ONLINE TRAINING
In the SAGD Oil Sands Online Training Produced Water De-oiling Course, you will learn how water recovered from the SAGD emulsions is processed to remove oil and solids, how precipitation softening is performed, and how the produced water is deaerated in preparation for use as facility Boiler Feed Water.
ABOUT THE SAGD OIL SANDS ONLINE TRAINING COURSE
The SAGD Oil Sands Online Training Course is a fully animated, universally accessible online training program that provides its students with an in depth understanding of one of the Oil Sands most popular and most nuanced method of bitumen recovery. With a curriculum written by experienced industry experts and accurate visualizations and animated chapters, you will be able to function in this challenging and growing method of Oil Sands Production.