'Making sure quality and safety are number one' is the key to Power Precision's success in Bathurst
Written by Peter Assaff, October 3rd 2019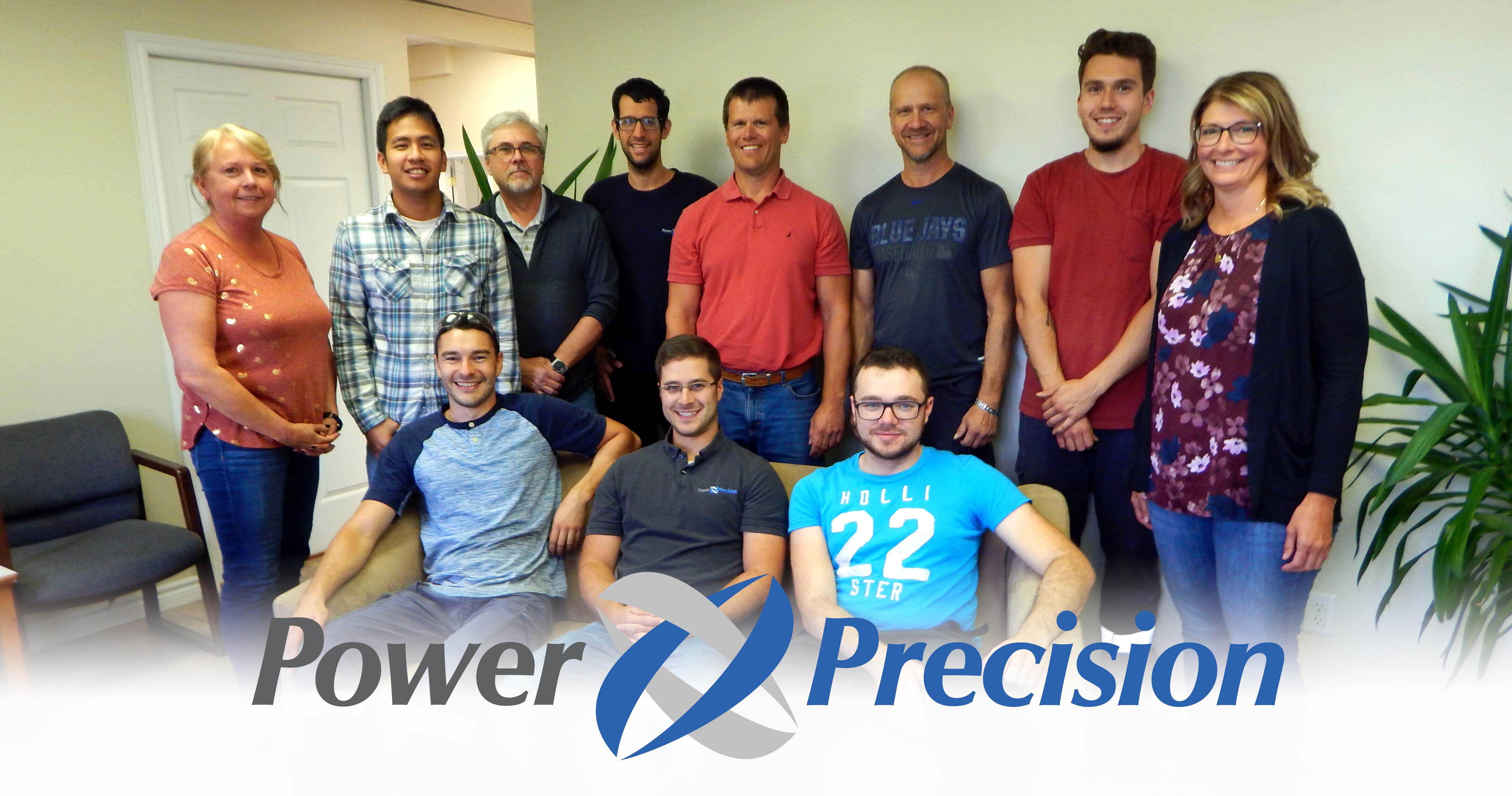 It was the pulp and paper industry that brought Grant Erb to northern New Brunswick, but it was his passion for electrical work and safety that led him to go out on his own and form Power Precision, a Bathurst success story that leads by example thanks to a strong team first attitude.   
Born in Fort Frances, Ontario, roughly halfway between Thunder Bay and the Manitoba border, Erb grew up in a pulp and paper town.
After graduating from Lakehead University with a degree in electrical engineering he went out west for a few years before finding himself in Bathurst, N. B., putting the skills he'd learned to work at that cities pulp and paper mill.  
"Going to high school, and even while in university, I did some work at the mill (in Fort Frances), so I was familiar with pulp and paper," he said.  "I was interested in electrical at that time (and) got exposed to electrical in heavy industry there. When I graduated (from university) I went out to B. C. and worked out there for a few years for an engineering consulting company. 
"That is where I learned to do engineering design and drawings and packages.  I did quite a bit for the mill too, but that's where I learned that it could be a small business providing those services."
That experience is what led him to believe that he could eventually head out on his own to do electrical engineering consulting.
"I worked at the mill for several years here in Bathurst," he explained.  "Times were tough for Pulp and Paper, but I had an idea at that point to get out into electrical engineering consulting.  That is when I decided to leave the mill and kind of start on my own and get into engineering, doing designs for electrical systems for industry."
That was in early 2005.  The Bathurst mill closed later that same year.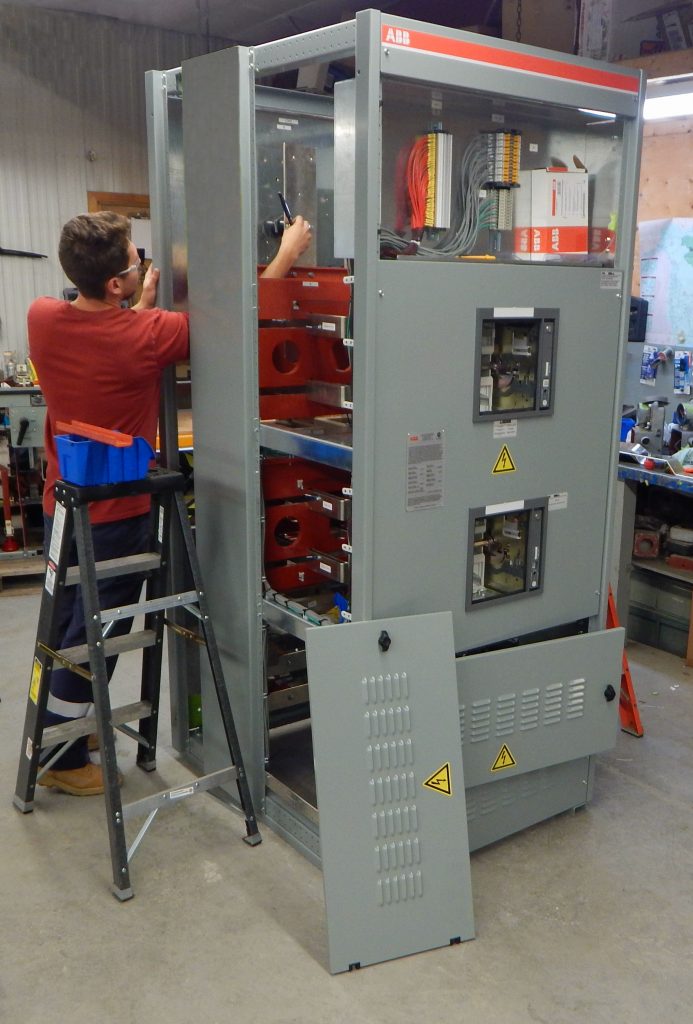 "I started on my own in January and the mill closed at the beginning of August that same year," said Erb.  "I would have been going somewhere or doing something else a few months later anyway.
"Industry was kind of changing at that time too.  There was a lot more information about safety and new standards being developed to make the workplace safer for electrical workers.  That was really a big interest of mine, a passion of mine, so I decided at that time to get out and start on my own. That is when I opened OME Engineering and started engineering consulting."
Although he was no longer relying on the mill for a paycheck, when it closed its doors several of Erb's former colleagues found themselves looking for work.
"Gord McLean was one guy that was at the mill, he was in the E&I department (Electrical and Instrumentation)," said Erb.  "When the mill closed, he needed something to do, so I got a hold of him and he started working with me. 
"(Brunswick Mine) was still going at that time, so Gord was able to offer his experience up there, so he spent a lot of time up at the mine at that time."
Brunswick Mine operated just south of Bathurst from 1964 to 2013.  At its peak it was one of the largest zinc producing mines in the world.
OME Engineering also landed contracts early on with mills in places like Dalhousie and Miramichi that "were interested in having some assistance in the electrical field. Things kind of started rolling from there."
Those mills, as it turned out, would eventually shut their doors as well.  But, as the old saying goes 'when one door closes, another opens'.
"It was only a couple of years after that that GE decided to close their shop here in the Industrial Park in Bathurst," said Erb.  "Through the mill we had worked with GE, (they) had provided a lot of services for us at the mill, so I knew several guys from there."
Once again, Erb had former colleagues looking for work.
"It was a shame," he said.  "You look at the talent and the skilled workforce that you have here.  I was sure they could stay busy in Bathurst if there was a way, or a company they could work for. 
"So, I got together with (a couple of those guys) at the time (including Danny Daigle who, like Gord McLean, still works with Erb to this day) and talked about it and said maybe there's a way that we could start a company, or roll that into OME."
That was how Power Precision was
born in 2007
"We kind of figured that that was a different style of work.  It is more electrician work, hands on work, so maybe it is best to put that under another company."
At first, the two companies ran in parallel and Erb managed both at the same time.  Although OME Engineering still exists, the work is now done under the Power Precision banner.
"Most of the work (for OME Engineering) was done on the computer, doing drawings and things like that, for new installations, or improvements, or studies related to the hazards of electrical equipment and how to make it safer for electrical workers," he explained. 
Power Precision, on the other hand, designs and improves electrical equipment for mines, power generating sites and other facilities.  With a staff that includes engineers, technologists, technicians and electricians, they provide a range of products and services associated with electrical power and control systems.
"We found that the best synergy was really in bringing OME Engineering and Power Precision together to work on things together," said Erb.  "Bringing some of those engineering ideas to the equipment that was being worked on by Power Precision.
"Rather than just repairing it and getting it back to the customer, or overhauling or rebuilding, we'd take the equipment and tear it right down to the last nut and bolt and clean it up and inspect it and everything, and then reassemble it right from scratch so it is basically built over again in the same way that it was in the factory."
Erb uses the term 'remanufacturing' to better describe the process.
"(We) actually take a step past that to say, 'well what kind of features can we add to this breaker or switchgear that is going to make it that much safer to meet our goals in terms of safety and reliability'.  So, now we are designing new and improved equipment. 
"Our engineering team works along with the guys in the shop to come up with new designs.  We do drawings and designs for equipment issued to the shop where the shop can, rather than just remanufacturing the old one, build a new breaker with all the new safety features and install it in their existing switchgear at the plant."
The idea is to basically upgrade and modernize a plant one piece at a time. 
"That avoids having to build a new plant.  Often what was traditionally done was remove switchgear, which could be 20 or 30 feet long with 20 breakers in it…that are often four feet tall…and thousands of pounds. 
"There is often opportunities to change those out one at a time, because that is what they would normally do to maintain them and service them.  We then replace it with a new modern breaker that they can roll into place, and at times also add on a control so that they can control it remotely and view it from an infrared camera on a remote tv screen.  Things like that.
"We've had some customers say, 'I have this problem.  Come up with a solution for me', so we do our best."
Making the workplace safer for electrical workers has always been important to Erb.  Early on, he got to do just that following a tragic accident in the U.S.
"An electrical worker went to test electrical equipment,' said Erb.  "It was at 4,000 volts. He had his tester on the wrong setting, and it blew up in his face.  He ended up on fire, all his clothing was on fire, and he died from that. At that time there were new standards coming into place."
Because of that, the mill in Miramichi was looking for someone to help make all their equipment safer.
"They said 'we've got to adopt this new standard'. 
"It was a good opportunity for me to get started.  I really saw the benefit of that too. It is one thing to come in and do your work very day, but then also know that you are making a difference and helping people so that their work is safer.  You feel much better about that and we are quite proud about that."
Erb said that is true from both the engineering and manufacturing sides of the business.
"Pretty well all of our shop work is driven by making the equipment better and safer," he said.  "Often the two go hand and hand when it comes to being reliable, maintenance friendly and everything, as well as being safe.
"If you build the equipment with good quality and good design, you should have less failures.  (That means) less down time. You can be more productive, but also your guys are that much safer, you don't have surprises, unexpected things, and you don't have to get in there, and test and trouble shoot when it is energized."
They also design features that allow operators to monitor equipment from a distance.
"There are many videos of guys having to actually mechanically rack a breaker, in using cranks and things and wrenches, and having the breaker blow up in their face and a lot of them lose their lives because of it.
"We are building breakers and switchers with infrared cameras that can actually see the breaker and its position inside the cubicle, inside of a dark cubicle, on a remote tv screen.  And we can control the racking, as we call it, of the breaker into position on an energized bus from the other side of the plant so the guys are safe."
A large suite of
products and services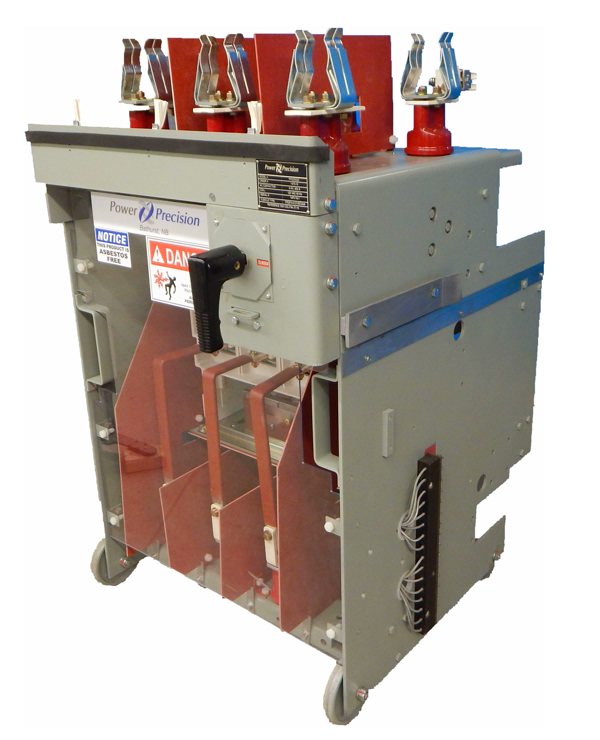 Power Precision offers a variety of products and services that range from Engineering, Fabrication and Installation to Maintenance, Testing and Modernization.  They also supply Substation Packages and Systems, Breakers and Switchgear, Switchgear and Controls for Motors and Generators, as well as Transformers and Substation Components.
"It is heavy industry on the East side of Canada that we deal with the most," said Erb.  "We deal with mines and smelters and electrical utilities, provincial electrical utilities.  Some government organizations as well, but only when they are on the relatively large scale. We deal with the wind parks and NB Power as well.  Sometimes it is just one little piece at a time, but they are big customers, so it usually a piece after a piece after a piece. We have a relatively steady flow that way."
Erb said the key to Power Precision's success is building on the reputation they have built over the years.
"It is not a big province, so it doesn't take long for word to spread," he said.  "The idea is you get that first piece of equipment, that first breaker, in the door, and you do a good job on it…and the next one should follow.  That's always been our strategy. Do a good job, get it back to the customer, if he is satisfied, you'll see him come back."
The strength of the
Power Precision team
And that 'job well done' strategy, Erb says, is something that everyone at Power Precision practices every day.
"For us it is about developing that reputation…making sure that quality and safety is number one.
"My engineering degree kind of got me my solid footing off the start, and it has been a part of a lot of the work we do, but the experience and skills that our team have here – I couldn't do it without them.  They are a huge part of that.
"Gordon with all of his years of experience at the mill, and Danny, I couldn't have done it without them.  They bring all that experience as well and those ideas.
"Everybody has been part of it.  It has really been a good team effort.  We have a great group here. Everybody gets along really well and that's, I think, one of the big reasons we all keep doing what we are doing."
Taking Care of Business with Contendo
A look at successful small and medium-sized businesses and how they continue to find a way to 'make it work'
By Peter Assaff
Contendo is a leading software solutions company based in Belledune, NB. Originally focused on safety training solutions for some of the largest companies in Canada's Oil and Gas Industry, Contendo has taken the lessons they've learned and adapted their offerings to uniquely serve small and medium sized businesses on the East Coast. Contendo offers proprietary web-based software products, such as a Training Management System (TMS), online Safety Training courses, custom Client-Specific Online Training and company or site Employee Orientation Packages. Contendo has also developed an in demand, state of the art Labour, Equipment and Materials Summary tool (LEMS) to help businesses control invoicing, project tracking and payroll.
Peter Assaff is Contendo's Business Development Lead. Peter is also an award-winning journalist, with over 30 years of experience in radio, newspaper and television. Reach out to Peter at peter@contendo.ca if you have an idea for a story on a successful business, or for any information on the products and services Contendo has to offer.